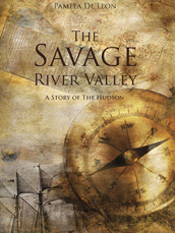 Clara, an ordinary woman from modern-day New York, lives a life haunted by memories she cannot understand, memories of a life not her own. When she finds herself overwhelmed with sadness for the true love she only remembers but has never met, she finds herself thrust by a wise old woman onto a journey to find enlightenment and peace. Taken as a spirit to the year 1601, Clara becomes a spectator for a Mohican funerary service--the funeral for the wise old woman. What is Clara's connection to the past? How is she to find peace when only one person can see her?
In
The Savage River Valley
, author Pamela De Leon takes readers on an exquisite, intricate, and historically based adventure into the early days of our country and the magnificent chronicles of the Hudson River Valley. White Feather, famed warrior of the Mohicans, must defend his tribe from its vicious enemies, the Mohawks. In a search for his missing mother, he is shocked and ashamed by what he finds. A mysterious cripple with strange powers talks his way onto a Dutch trade ship sailing for the Hudson. Will the crew's bitter hatred for his marred appearance let him live long enough to reveal his destiny? Intricate stories evolve into elaborate confrontations with danger at every turn. Each thread weaves into an ending based on the true history of murder, passion, and deception in The Savage River Valley.